有機生可可豆
We provide organic cacao beans both raw and roasted. All chocolate starts off as cacao a cacao bean!
Product Information
The generic name of "Theobroma" is derived from the Greek for "food of the gods"; from θεός (theos), meaning 'god', and βρῶμα (broma), meaning 'food'.
Cacao pods are grown on the Theobroma cacao tree. The pods are removed from the tree and within the pods contain cacao beans which are covered in a sticky white texture. These beans are then fermented and then ready to be processed.
There are 3 main species of cacao beans. Criollo, Forastero and Trinitario. Most cacao bean cultivation is the Forastero and Trinitario variety. Criollo cacao represents the lowest production yield out of the three.
Cacao originating from Peru is sought after for its unique taste profile characteristics and in conjunction to its scarcity when compared to other producing areas in the world.

As of 2019, over 75% of cocoa produced worldwide comes from West Africa, specifically Côte D'Ivoire, Ghana, Cameroon and Nigeria.
South America produces around 15% of the world's cacao production.
Peru only produces around 2.5% of the world's cacao.
包裝選項

初級包裝類型

包裹數量/箱

公斤/包

包裹數量/托盤

二次包裝

公斤/托盤

#1

40公斤聚丙烯袋

1

40

25

聚丙烯袋。

(83.5 x 60 x 12.5 厘米)

1000

#2

5公斤袋-尼龍+聚乙烯透明色

(44 x 24 x 12 厘米)

3

15

48

牛皮紙,長笛 C,瓦楞紙,100% 回收箱

(28.5 x 49 x 31 厘米)

960
Cacao Beans Are High In
Fiber
Protein
Healthy Fats
Iron
Magnesium
Phosphorus
Zinc
Magnesium
Copper
Available In
Bulk - 40 KG Polypropylene Sacks
Bulk - 15 KG Boxes
Physical Characteristics
Color/ Flavor/ Odor/ Taste: Characteristic of cacao beans

Fermentation: 75%

Humidity: 7 – 9.5%
Specifications
Product Specification: Organic Raw Cacao Beans

Code: ORB003

Plant Part Used: Bean

Botanical Name: Theobroma Cacao

Ingredient: 100% Cacao Bean

Shelf Life: 24 Months

Origin: Peru

Application: Used to produce cacao derivatives and chocolate

Pesticide Residues: None

Solvent: None
Our Factory
We pride ourselves on maintaining these certifications in order to deliver you product that is environmentally friendly, ethically sustainable, and healthy.
Our cacao and Chocolate products are specially crafted in our factory, and are suitable for consumers with a wide range of nutritional needs.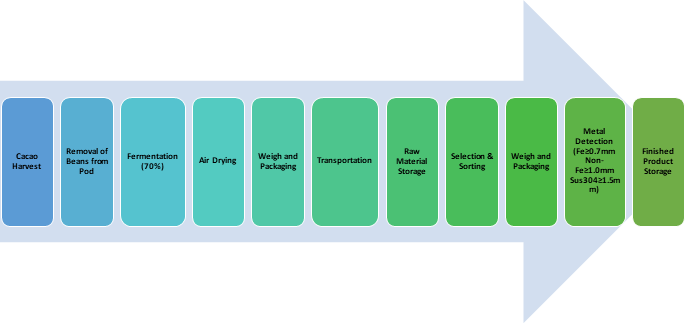 選擇一個選項將刷新整個頁面。
按空格鍵,然後按箭頭鍵進行選擇。

繁體中文
English

Deutsch

Español

français

繁體中文