巧克力包裹的有機烤可可粒
Cacao nibs coated in either 55%, 70%, or 80% chocolate, sweetened with your choice of organic panela, organic coconut sugar, or yacon syrup. We also offer you the option of the chocolate being infused with either lucuma, maca, or camu camu powder.
Product Information
All chocolate starts off as a cacao nib. It is the first step in the production of chocolate. While both dark chocolate (containing 70% + cocoa solids) is a superfood, the nutritional benefits are incomparable to that of cacao nibs because cacao nibs are broken up cacao beans without any additives or further processing and is the first step of the process in making chocolate.
Gmo
free
Wheat
free
Gluten
free
Dairy
free
Soy
free
Nut
free
Allergen
free
初級包裝類型 (cm)
每袋公斤
# 每盒袋數
每箱總公斤數
二次包裝
盒子尺寸 L x W x H (cm)
每個托盤的箱子數量
托盤尺寸 L x W x H (m)
托盤重量(公斤)
尼龍+聚乙烯透明色(44 x 24 x 12 cm)
5
3
15
牛皮紙,瓦楞紙,100% 回收箱
39 x 50 x 19.5
56
1 x 1.2 x 1.98
840
Cacao Nibs Are High In
Fiber
Protein
Healthy Fats
Iron
Magnesium
Phosphorus
Zinc
Magnesium
Copper
Available In
Bulk - 20 KG Boxes
Bulk - 15 KG Boxes
Private Label
Characteristics
Appearance: Cacao Nibs Covered In Chocolate

Color: Brown

Flavor/ Odor/ Taste: Characteristic to chocolate covered nibs
Specifications
% of Chocolate Coating Available: 55%, 70%, 80%

Sweeteners Available: Panela, Coconut Sugar, Yacon Syrup

Inclusions Available: Organic lucuma, maca, or camu camu powder(s)

** Yacon Sweetened Chocolate Covered Nibs Only Available in 80% Cacao.
Our Factory
We pride ourselves on maintaining these certifications in order to deliver you product that is environmentally friendly, ethically sustainable, and healthy.
Our cacao and Chocolate products are specially crafted in our factory, and are suitable for consumers with a wide range of nutritional needs.
Certified
Organic
Certified
Kosher
Environmentally
Sustainable
Ethical
& Corruption free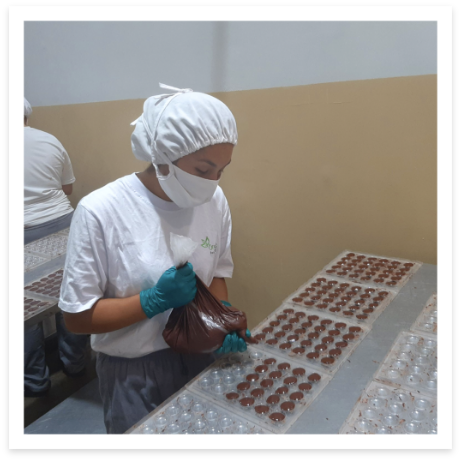 選擇一個選項將刷新整個頁面。
按空格鍵,然後按箭頭鍵進行選擇。

繁體中文
繁體中文