Organic 70% Chocolate Sweetened With Panela - Chips
70% organic chocolate sweetened with panela produced from your preferred variety of organic Peruvian cacao. -- Choose your preferred varieties of cacao (Trinitario, CCN51, Criollo, Porcelana). -- Select Your Optional Inclusion & Type of Packaging.
Product Information
Chocolate is made by roasting cacao beans and producing cacao nibs. Nibs are then crushed and produced into a thick mass called cacao paste (sometimes called cacao liquor) and chocolate is made when conching the paste with cacao butter, adding panela, and optional inclusions.
Our chocolate is available in a variety of presentations, and we also offer the option of adding organic Peruvian superfood inclusions which we conch and embed into the chocolate for the optional added nutritional value and taste.
Other Available Percentages of Cacao: 55%, 80%
Gmo
free
Wheat
free
Gluten
free
Dairy
free
Soy
free
Nut
free
Allergen
free
Our chocolate contains no allergens, soy, wheat, GMO's, dairy, nuts, preservatives, or fillers, and is certified kosher, organic & fair trade.
Available Cacao Varieties
Option #1: 50% Trinitario, 25% CCN51, 25% Criollo
Option #2: 100% Criollo
Option #3: 70% CCN51 & 30% Trinitario
Option #4: 50% Trinitario & 50% Criollo
Option #5: 100% Porcelana
Other Presentations
Available Inclusions
Lucuma Powder
Camu Camu Powder
Maca Powder
Other Sweetening Options
Our Factory
We pride ourselves on maintaining these certifications in order to deliver you product that is environmentally friendly, ethically sustainable, and healthy.
Our cacao and Chocolate products are specially crafted in our factory, and are suitable for consumers with a wide range of nutritional needs.
Certified
Organic
Certified
Kosher
Environmentally
Sustainable
Ethical
& Corruption free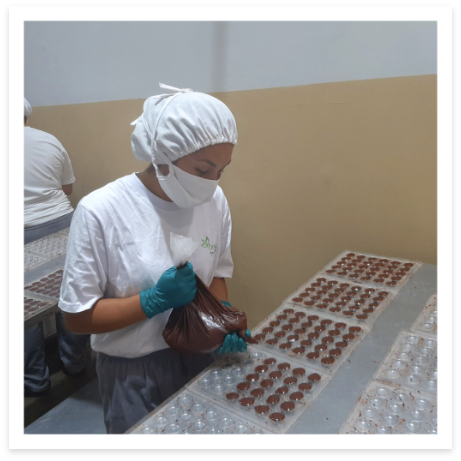 Choosing a selection results in a full page refresh.
Press the space key then arrow keys to make a selection.

English
English

Deutsch

Español

français

繁體中文