Product Information
Chocolate is made by roasting cacao beans and producing cacao nibs. Nibs are then crushed and produced into cacao paste (sometimes called cacao liquor).
This chocolate is made when mixing (conching) the paste, with organic yacon syrup, and organic cacao butter with the option to add an organic superfood inclusion (lucuma powder, camu camu powder, or maca powder) to make this unique chocolate that does not contain any added sugar.
This chocoalte is made without any sugar and is truly a unique product.
We also offer our organic yacon sweetened chocoalte in blocks, wafers, and chips.
Gmo
free
Wheat
free
Gluten
free
Dairy
free
Soy
free
Nut
free
Allergen
free
THIS CHOCOLATE CONTAINS NO SUGAR
It is sweetened with yacon syrup which is very low on the glycemic index and is the formulation of chocolate that we recommend for diabetics. 
THIS CHOCOLATE IS MADE WITH ONLY 3 INGREDIENTS:
1. Organic Cacao Paste
2. Organic Yacon Syrup
3. Organic Cacao Butter
* You can also choose to add your choice of organic Peruvian superfood inclusion which we mix (conch) into the chocolate. Our chocolate contains no allergens, soy, wheat, GMO's, dairy, nuts, preservatives, or fillers, and is certified kosher, organic & fair trade. 
Our chocolate bars are produced in 80-gram formats.
** Price is showed per shipping box which contains your selected quantity of display cases.  (each display contains 12 bars)
Available Cacao Varieties
Option #1: 100% Criollo
Option #2: 50% Trinitario & 50% Criollo
Other Available Presentations
Available Inclusions
Lucuma Powder
Camu Camu Powder
Maca Powder
Our Factory
We pride ourselves on maintaining these certifications in order to deliver you product that is environmentally friendly, ethically sustainable, and healthy.
Our cacao and Chocolate products are specially crafted in our factory, and are suitable for consumers with a wide range of nutritional needs.
Certified
Organic
Certified
Kosher
Environmentally
Sustainable
Ethical
& Corruption free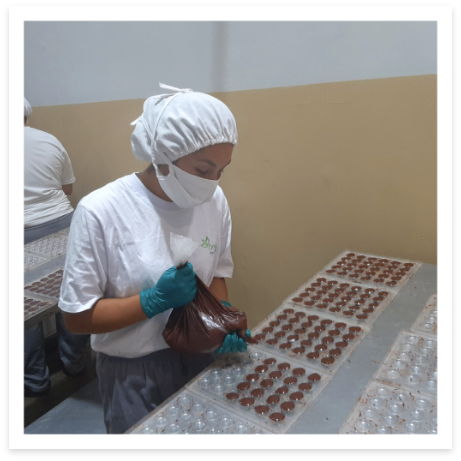 Choosing a selection results in a full page refresh.
Press the space key then arrow keys to make a selection.

English
English

Deutsch

Español

français

繁體中文